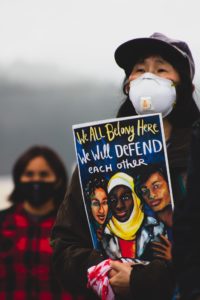 Rebecca from Literacy asked us if we wanted to say a few things about racism.
Being of Asian descent, the anti-Asian racism in our country and south of the border has made me feel both sad and more wary of people I don't know. In town, a recent European immigrant made the sign of the cross in front of me at Quality Foods!
While I was a student at E.J. Dunn Jr. Secondary, I was cornered by two Caucasian girls who demanded to know why I didn't speak "my own language" and that a certain teacher says, "those who can't speak their own language are stupid."
I have also experienced racism while volunteering at Literacy Alberni by a fellow volunteer. I was most disappointed that none of the other people (volunteers) said anything about his hurtful remark to me. I reported this person to Rebecca at Literacy and she told me that there had been other complaints and he was let go. Sometimes I think that people who are racist, are sometimes drawn to groups where there are vulnerable people.
Both my parents and their children were born in B.C. But all our lives we have been asked "What are you?" When we answered "Canadian", they would ask "What are you really?" Now if that doesn't make you feel like you don't belong, I don't know what does. So, I go through the whole explanation that my grandparents came to B.C. in the early 1900's from Japan, etc. I often spin it around and ask the other person "What are you?" They'll answer "Canadian" so I ask, "What are you really?" and then I get answers like "Oh, I guess Polish or we're from Alberta"………
Just to let you know I don't let racism colour my life. I try to focus on the positive and believe that education is one of the ways that parents and teachers can help to reduce racism. Maybe focus on the fact that we are more alike than we are different. Cooperative ventures would help different groups to get to know one another to achieve common goals. Yes, I have experienced racism while growing up and living in Port Alberni but I have also experienced more inclusion and friendship.
– Marlene Mortensen (nee Madokoro)